Canon Continues Charitable Cause with the Philippine Red Cross in Aid of the Victims of the Batanes Earthquake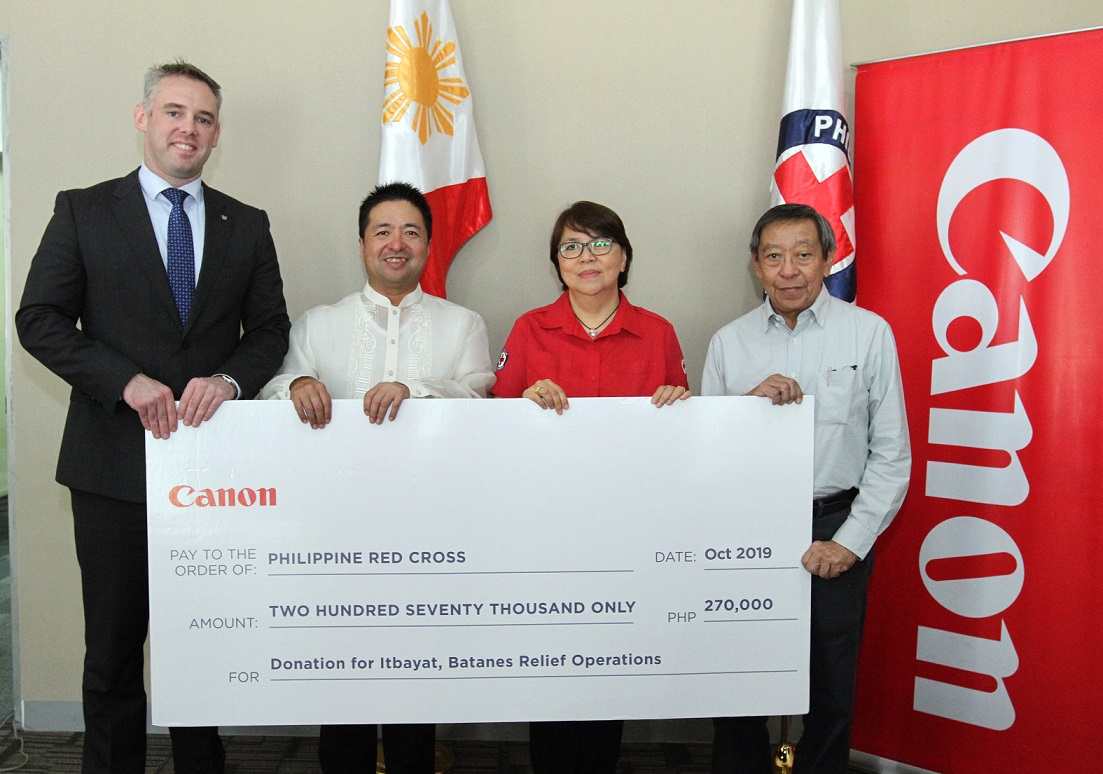 Manila, Philippines 2019 – The Canon group of companies in the Philippines -- Canon Marketing Philippines, Inc. (CMPI), Canon Information Technologies Inc., Canon Business Machines Philippines, and Canon Business Service Centre Philippines (CBSCP) donated PHP 270,000 to Philippine Red Cross (PRC) to aid the victims of the 5.9 magnitude earthquake that struck Batanes last 27 July 2019.
Part of the total donation was covered by a nationwide fundraising initiative called Print for Itbayat, in which Canon utilized the imagePROGRAF large format printers for three weeks among employees and customers to print their photos. The donation will be used to provide for the victims' food, clothing, medicine, shelter, sanitation, and to train Ivatans how to build earthquake-resistant shelter. "The locals are used to typhoons," Elizabeth Zavalla, Philippine Red Cross Secretary General noted. "Unfortunately, these stone houses were not built to withstand earthquakes. Our team has provided emergency shelters and will stay in Batanes for three weeks to train Ivatans how to construct homes that can endure this new type of disaster."
Last 2014, Batanes was the destination of choice selected for Canon Image Bridge, a regional program across Asia where students gather to showcase personal images of their life, culture, and their respective communities to other students from neighboring countries. As one of the leading tourist and must-see destinations of locals and foreginers alike, Batanes is slowly getting the recognition it deserves with its jaw-dropping views and quaint charm raved about by the photography community.
"Through the years, CMPI has continusouly been an advocate of spreading delight to more than just photography enhusiasts, but to fellow countrymen as well. By aiding Filipino communities that were greatly affected by calamities in the country such as typhoon Yolanda, and the casualties of the Marawi siege in Mindanao. We will continue to do our part by empowering and inspiring Filipinos in need the best way that we can," said CMPI President & CEO Kazuhiro Ozawa.