Creativity On-the-Go: Canon launches its smallest & lightest photo printer that fits your lifestyle
Experience convenience, creativity, and connectivity with the newest and lightest Canon Mini Photo Printer with ZINK dry-printing technology.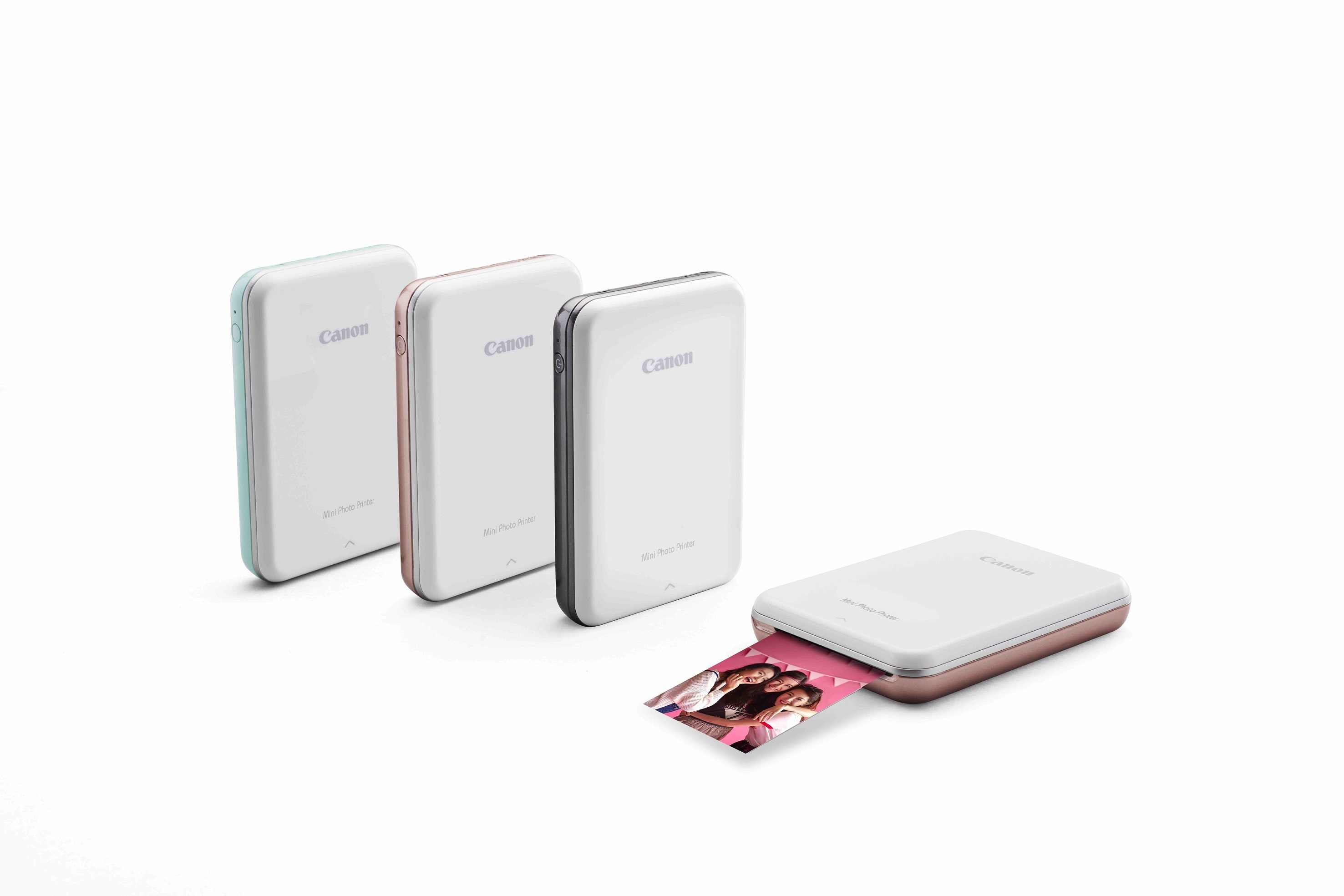 Manila, Philippines – Digital imaging world leader Canon has released its smallest and lightest photo printer to-date, the Canon Mini Photo Printer, capable of printing upside down and does not use ink for printing. The new Canon Mini Photo printer allows today's generation to instantly print and share memories with a bold dash of personality and style.
Convenience via Printing Technology and Media
The Canon Mini Photo Printer features Zero Ink™ Technology from ZINK™, a revolutionary dry-printing technology that enables printing in color without the use of ink cartridges. It delivers 2x3-inch glossy photo prints that are smudge-proof and scratch-resistant, with a peel-and-stick reverse side that adheres effortlessly to the back of smartphones, laptops, tabletops, wall mirrors, or just about any smooth surface!
Connectivity via Wireless Printing
The printer's slim profile size translates to impressive portability – so compact that it fits into pockets, purses, long wallets and jackets easily. A built-in battery further ensures mobility without the need for the device to be attached to a power outlet. Users can simply press the button located at the side of the printer to pair the device with a smartphone, and full operation does not require devices to be arm-locked near a secure wireless network.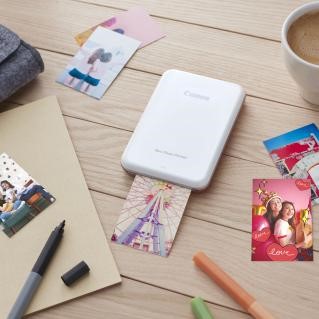 Creativity via the Canon Mini Print Mobile App1
The beautiful color baseplates and dove-white two-tone design simplicity gives a little hint to the varied, endless fun possible once the printer jumps to attention via the Canon Mini Print Mobile app, available for iOS and Android OS devices. With the app, users can snap photos through the in-app camera integration or retrieve existing photos from a variety of online albums, including Facebook, Instagram, Google Drive, and Dropbox.
The app also features an extensive library of photo-editing tools, creative filters, photo frames, creative stamps, text boxes, and features such as augmented reality (AR) face distortion and the option to draw on the artwork before printing that add layers of expressiveness to the most ordinary of snapshots.
For occasions where 2x3-inch images will simply not do, the app also offers collage printing of up to four images, or a tile print function that creates an enlarged print made up of four or nine prints.
Pricing2 and Availability
The Canon Mini Photo Printer is available in Slate Grey3, Rose Gold3 and Mint Green3 and the box configuration includes the printer body, a starter pack of ten sheets of photo paper, and a charging cable.
Product Specifications
Canon Mini Photo Printer, PV-123

Dimensions (LxDxH)

Approx. 118.3mm x 82.36mm x 18.7mm

Weight

160g

Key Features

Produce smudge-proof and scratch-resistant 2x3-inch photos

Simple connection via Bluetooth for direct printing

Retrieve photos from online albums: Facebook, Instagram, Google Drive, and Dropbox

Customize photos with creative filters, text, or stamps

Pricing

PHP9,900 bundled with 2 packs of ZP-2030-20 2x3 (20's) worth PHP1,100 and Limited-Edition Toki Doki Premiums worth PHP3,000

ZP-2030-20 (Photo Paper)

Pricing

PHP550
1Mini Photo Print app is free for download on the Apple App Store and Google Play Store and is compatible with Android 5.1 and later, iOS 10 and later.
2 Price is estimated retail price and is subject to change at any time without notice.
3 Printer color is found only on baseplates with printer top cover in white.