DepEd Region XI and Canon Business Imaging Solutions Join Forces in Enabling Learning in the New Normal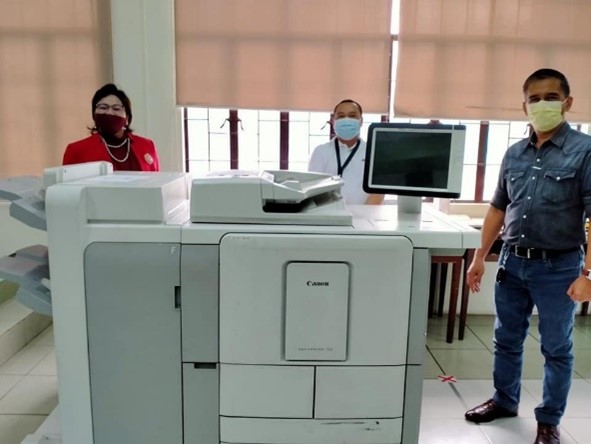 While COVID-19 has taken the globe by surprise and has nudged adaptation of new ways of life, work style and habits, educators and learners have explored new platforms to ensure uninterrupted learning. "Whatever happens, education of our children must continue anytime, anywhere", says Department of Education (DepEd) Assistant Regional Director Dr. Maria Inez Asuncion.
The Department of Education branch in Region XI faced a logistical challenge in producing the large volume of printouts, sorting pages into modules, and dispatching to the respective schools.
Canon helped the Department of Education through this challenge with our high-speed digital printing presses, backed up by a vast nationwide network of post sales support--including trained engineers, logistics support, optimum inventory of consumables and sales, and, above all, an organization structure committed to delighting the customers. The print room was swiftly deployed and activated for the Department of Education, enabling them to speed up the printing.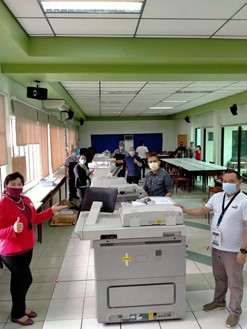 The Canon-DepEd Print Room Project involves a dedicated printing room with designated personnel to receive the master file for mass printing and smart sorting. Canon's multi-function, high capacity, smart sorting printing Presses allow cost and time efficient production of modules that have increased Educational Module production for Region XI by up to 200%.
"The Canon Print Room Project deployed in Region XI with the leadership of Dr. Asuncion and team is a big step towards adaptive education that evolves to reach out and complement new formats of teaching," said Yasuhiko Shiraki, head for Business Imaging Solutions in Canon Marketing (Philippines), Inc. "Agility is key to adapting to the new normal. We provide solutions that enable clients to carry out their responsibility effectively. In this case, improved education with the use of smartly sorted, printed modules to supplement electronic or digital learning sessions"
Previously, with the other brand DepEd had used, moderators had to manually copy pages of the several modules for the grading period. These copies then required manual sorting and compilation that took twice the time and effort. "I hope that our schools elsewhere find value too, in the concept of the Canon-DepEd Print Room Project to help save time and energy in producing educational materials", Dr. Asuncion adds.