Canon Cements World-Class Tech and Business Solutions with Facial Access Control Temperature System (FACTS)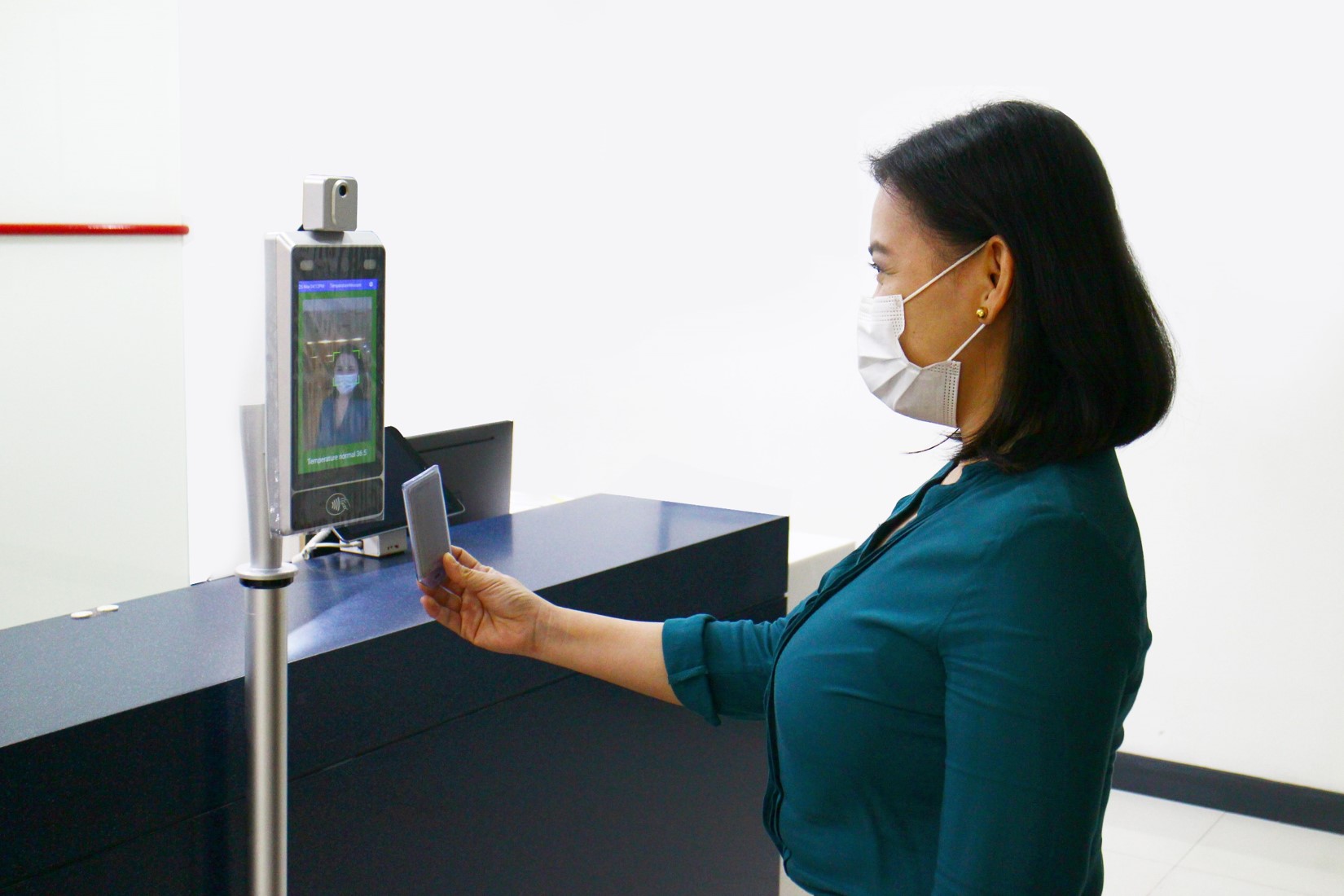 Canon Philippines recently added an intelligent all-in-one Facial Access Control Temperature System (FACTS)1 to their fleet of world-class business solutions products. FACTS comprises of a full suite of integrated temperature screening solutions in a single device. Automatic contactless temperature screening with facial detection allows businesses to keep track of their employees and visitors for contact tracing purposes, and can be fully customized to suit various day-to-day company operations.
Due to the global health crisis, people and businesses alike had to adjust to the norm of individually scanning people for fevers with handheld infrared thermometers and using an additional, separate check-in form prior to entering a space. While these preventive measures adequately safeguard the population, the use of separate systems and rudimentary technology increases the chance of human and machine error and can hamper day-to-day work.
"Companies across various industries were challenged to combat one of the most trying months that will read in future history books. Amidst all the provocations, we have been witness to a rapid response in adapting to the changing business climate across a multitude of industries. We at Canon are proud to be of service to our nation by providing businesses with Facial Access Control Temperature System (FACTS). We can simplify and make these necessary health practices more efficient, accurate and safe," said Kazuhiro Ozawa, Canon Marketing (Philippines), Inc, President & CEO.
Customizable and Scalable to Suit Your Business Needs
Social distancing in businesses and public spaces are likely to be a mainstay. The problem with most handheld scanners is that they require staff to be in close contact with the individual they're taking the temperature of. Should the individual be ill, this increases the chances of employees falling sick too. Canon's Facial Access Control Temperature System bypasses this health risk as its AI-powered temperature detection terminal can scan targets up to 2 meters away. Combining facial recognition and infrared thermography technologies, the terminal can quickly scan up to 100,000 faces, at a rate of 0.2 seconds per person.
With a door access system, access can be controlled based on body temperature. Easy signup with a Visitor Registration System that can be accessed remotely and can be customized through Canon's uniFLOW to suit various company and industry work operations. This can also be used as to record attendance using its facial recognition capabilities, while collecting time and temperature data at the same time.
All-In-One Temperature Screening Solutions
With any temperature scanning system, the ability to scan temperatures accurately is key. Many solutions available on the market offer readings with an accuracy of ±0.5℃. While this seems to be a small margin for error, the discrepancy could be the difference between being able to single out someone who is running a fever or not.
Canon's Facial Access Control Temperature System is enhanced with specialized Black Body technology, with a high accuracy of ±0.3℃. When temperature anomalies are detected, the system's bi-polar liveness camera sends out an alert and simultaneously video records the potential virus carrier.
Secure and Centralized Management System for Efficient Contact Tracing
Having to buy multiple pieces of equipment to track visitors and scan for temperatures can add up. Moreover, staff have to be hired to carry out these various safety requirements. The Facial Access Control Temperature System is an all-in-one device which can simplify and streamline this safety process.
The Canon Facial Access Control Temperature System first screens and records the temperatures of visitors. The device is able to scan the company ID's so employees can check into their workplaces with their company identification cards with the device's NFC reader.​​​​​​​​​​​​​​
This one-stop solution allows for temperatures and IDs to be stored in a single system. By eliminating the need for additional equipment, not only do businesses save on machine and labor costs, but also put in place a system for more effective contact tracing.
Scanning and Recording Intelligently with Video Content Analytics
The role of intelligent video analytics has never been more critical in protecting the public and stopping the spread of COVID-19. Having separate equipment for temperature screening and information tracking greatly increases the possibility for inaccurate data collection and the numerous steps remain an inconvenience for businesses and patrons alike.
Using the latest video analytics technology, Canon's FACTS is equipped with a surveillance camera enabling security and ensuring public safety. The Advanced multi-camera search pinpoints and traces diagnose individual, through accurate Face recognition. The technology will be able to help reinforce physical distancing, detect face mask violators, reduce over-crowding and identify COVID-19 hotspots, as well as manage building maintenance and cleaning.​​​​​​​
As we look towards refueling our economy and continue to combat COVID-19, safeguard your business and ensure the safety and well-being of your employees with FACTS. To know more, email customer_assistance@canon.com.ph
1Third-party device distributed by Canon Philippines