Join Canon's first-ever Nationwide PhotoWalk Challenge
Canon kicks-off the much-awaited Canon PhotoMarathon 2019 with its first-ever Nationwide PhotoWalk Challenge in partnership with the Federation of Philippine Photographers Foundation (FPFF)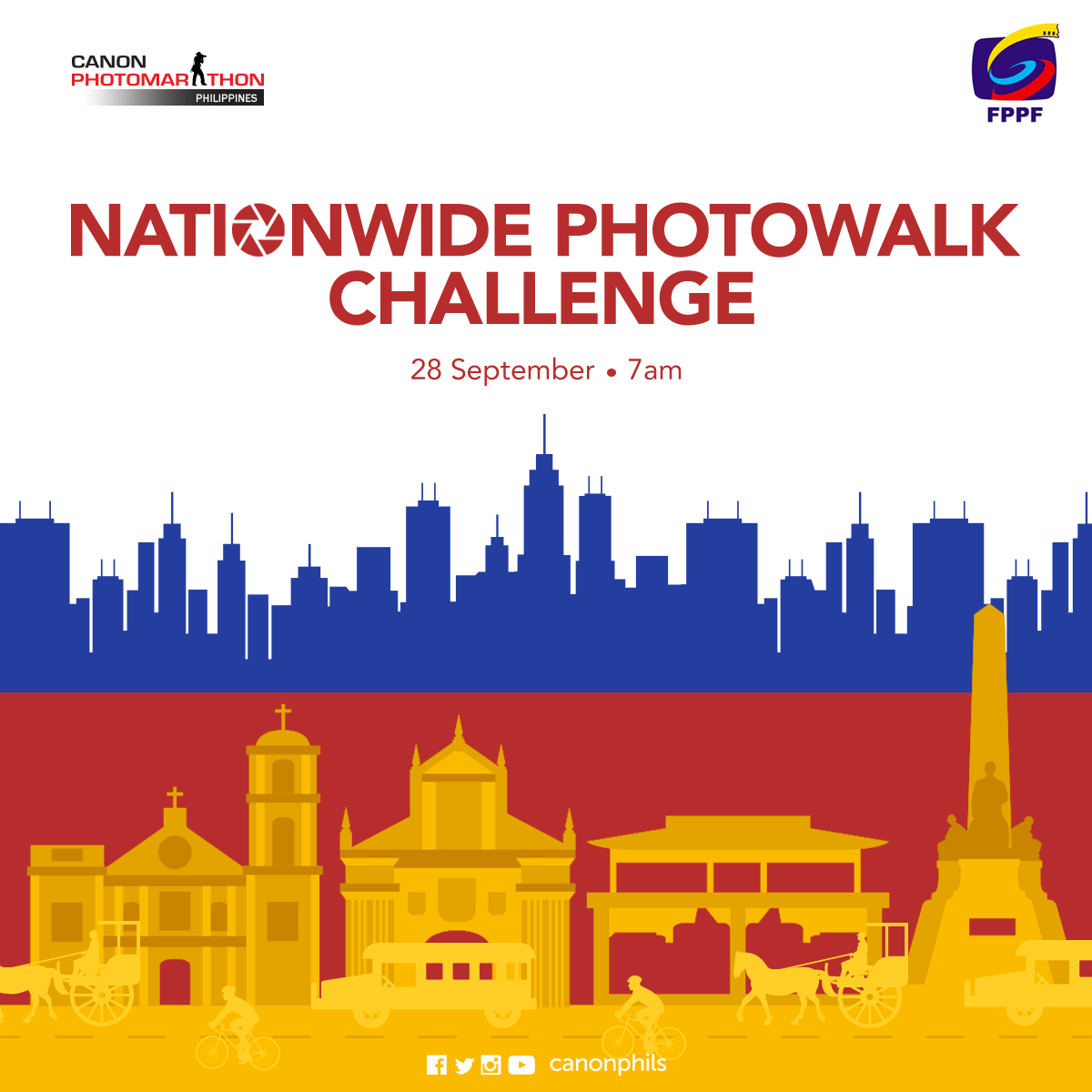 Manila, Philippines – Photography is all about perspective. In preparation for the biggest on-the-spot photography contest in the country, the Canon PhotoMarathon 2019, Canon invites Filipino photographers across the country to put their skills to test and capture images from unique perspectives at the first-ever Canon Nationwide PhotoWalk Challenge on September 28, 2019.
"This year, we at Canon hope to put the spotlight on the distinct aesthetic variations found all over the country. We want to celebrate the Philippines' rich landscapes, bustling cities, and diverse culture, and challenge Filipino photographers to look beyond the usual and capture visuals from their unique and diverse perspectives," said Benny Yu, Canon Marketing (Philippines), Inc.'s (CMPI) Head of Consumer Imaging and Information division. "Through the Canon Nationwide PhotoWalk, together with several workshops and activities that we are doing all over the country, we hope to equip and inspire thousands of photographers for the upcoming Canon PhotoMarathon 2019."
In partnership with the Federation of Philippine Photographers Foundation (FPPF), the Canon Nationwide PhotoWalk is open to all photographers, professionals and enthusiasts like, from any camera club with at least ten (10) members in the country. Interested camera clubs may submit a list of its members to FPPF and each participant must submit an accomplished form on or before September 21, 2019.
The theme and required camera setting will be announced to the participating camera clubs at 8:00am on September 28, 2019. Photos taken using any Canon camera (DSLR, mirrorless, point-and-shoot) and without any editing will be accepted. Each participant is allowed to submit one (1) entry only (1MB to 3MB, JPEG format, full-color) with the following details: full name of participant, address, contact number, email address, and camera club to canonphotowalkph@gmail.com on the day of the event.
Submitted entries will be judged according to creativity & skills (30%), technical requirement (30%), adherence to the theme (20%), and message & impact (20%). The Canon Nationwide PhotoWalk grand winner will receive a Canon M50 with 15-45mm lens while the 1st and 2nd runners up will receive a Canon EOS M100 with 15-45mm lens and PIXMA G-1000 Printer respectively. Winners will be announced at the Canon PhotoMarathon 2019 on October 19, 2019 which will happen at the SM Mall of Asia Music Hall Arena in Pasay City.
For inquiries, you may reach the Federation of Philippine Photographers Foundation at (02) 524-7576, (0997) 936-5187 or (0946) 279-4869 or visit this page for more information.