Renowned photographer Teoh Peng Kee's verdict on Canon's foray into full-frame mirrorless
Internationally acclaimed lensman Teoh Peng Kee delighted camera pros by sharing his expertise, insights and anecdotes about the EOS system while showcasing his awe-inspiring photos taken around the world using the Canon EOS R.
Manila, Philippines – "I fell in love with the Canon EOS R the very first time I held one," shared Teoh Peng Kee during his well-attended talk by professional photographers, videographers and content creators alike in Manila.
His daily carries are the new full-frame mirrorless cameras released by Canon, the EOS R and EOS RP. "These new systems have been getting a lot of attention as it competes directly with other mirrorless units from other brands. This is Canon's first entry into the full-frame mirrorless game and so far, I'm very impressed," he explained.
Often teased as a walking dictionary of the Canon EOS system, Teoh's storied experience and career in photography span two decades. He started as a sales manager in Canon Malaysia and back then, he was in charge of the pro-business unit that deals with professional photographers and studios. "I spent my first salary from my first ever job in cameras and lenses. All my bonus and salaries in my first six years working became cameras and lenses," he joked.
Teoh is also a longtime Canon advisor on photographic equipment and is a sought-after instructor and speaker in advanced photography seminars and workshops in South East Asia where his talks often receive overwhelming response and attendance.

Falling in love with the EOS R and RP
"I was invited during the launch of the EOS R in Malaysia to demo the unit in front of a lot of media. Naturally, photojournalists and photography enthusiasts were attending the event. What I did truly amazed everyone," narrated Teoh. "I asked for a dark room with only one candle. I then asked someone to light the candle, then invited everyone to take a photo. I took one shot right there and then and showed them the photo I took. Everyone was in awe," he added.
When photographers first find out that a new mount system is going to be released, they can't help but think that this is yet another expensive endeavor to get into. However, with the EOS R, Teoh clarified that it is not a problem because almost all lenses are compatible by using the Canon Mount Adapter EF-EOS R.
"The EOS R and RP came in the market a bit late, but I think they perfected the system both for EOS users and new users coming into the system. Otherwise, Canon users will hate it if the company came out with an entirely new mount system with all new lenses. So, I think people are very happy with the system being backward compatible," he explained.
Canon is not just selling new full-frame mirrorless cameras. They also developed a new RF mount system with seamless backward compatibility using lens adapters designed to accommodate all EF, EF-S, TS-E, MP-E lenses and the EX flash system.
Teoh also shared how the EOS R's Digital Lens Optimizer made his old lenses better. "I have this EF lens that I seldom use and I thought of just selling it. But I changed my mind because the EOS R drastically improved the image quality of the photos I took using the same lens," he added.
Creating Amazing Content in Extreme Conditions
As someone who believes in bringing his passion to work and enjoys sharing his knowledge and expertise, Teoh travels the world to capture amazing shots. He often travels with other enthusiasts and professional photographers as they try to perfect their shared thirst in taking wonderful images and content.
One of Teoh's trips took him to Mongolia where he shared his photos and videos of incredible sceneries like frozen lakes and frost-covered forests. "It's very cold in Mongolia," Teoh shared. "At night, you can't just walk outside because temperatures fall to minus 27 degrees Celsius. One morning, I thought I have a problem with my viewfinder but realized there's ice forming in my eyelashes," he exclaimed.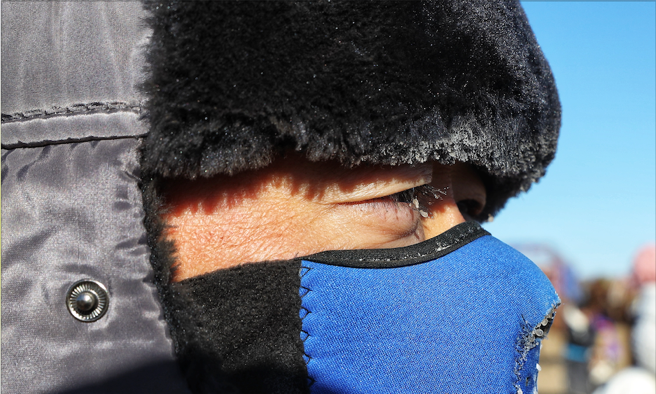 Teoh confessed that he brought two cameras to this trip, an EOS 1D X Mark II and the EOS R, but realized that he favored using the latter to shoot the entire time.
"Both cameras have full-frame sensors, the EOS R though has a higher resolution of 30.1 megapixels versus the 1D X Mark II's 20 megapixels," Teoh argued. "For all-day shoots, I prefer the EOS R because it's more ergonomic, compact and smaller. It also is lighter by 57% so it's easier to lug around," he added.
Many photographers will agree that capturing great shots of wildlife can be challenging because anything can happen very fast. Bringing a tripod for stability might be great, though setting it up may take precious time away from that very small window to capture the perfect moment. Oftentimes, shooters need to linger awaiting the perfect shot. Teoh, on the other hand, simply places his EOS R atop the snowy ground and use the LCD to position and shoot.
Teoh also bragged about the durability of his EOS R, sharing how a strong camera build proves advantageous in taking beautiful instant shots even in less favorable weather conditions.
"I got to know this one person during the trip. I distinctly remember him because he was always beside me taking photos and I noticed that he got frostbite in his pinky finger. The following day, I observed that he was just standing around not taking any shots. So, I asked, 'Why are you not shooting today?' He said to me, 'My lens froze.'"
"The entire time we were there in Mongolia, I never got a chance to clean my EOS R so it got really dirty and dusty. I didn't want to spend a night cleaning my equipment because I just wanted to enjoy my time there. When I want to take low angle shots, I just place my camera on the ground, on the snow or top of rocks. I didn't mind because all I wanted was to take the perfect shot. This goes to show that the EOS R can withstand the harshest conditions."
Towards the end of his talk, Teoh explained how both new and old EOS users would love how the R and RP operates as the controls and user interface are very intuitive and friendly. He also did not talk much about specifications and details of the new EOS full-frame mirrorless devices because he believed that "numbers and specs don't matter much, and what matters is the result."
To see more of Teoh Peng Kee's works, you may visit http://www.teohpengkee.com.